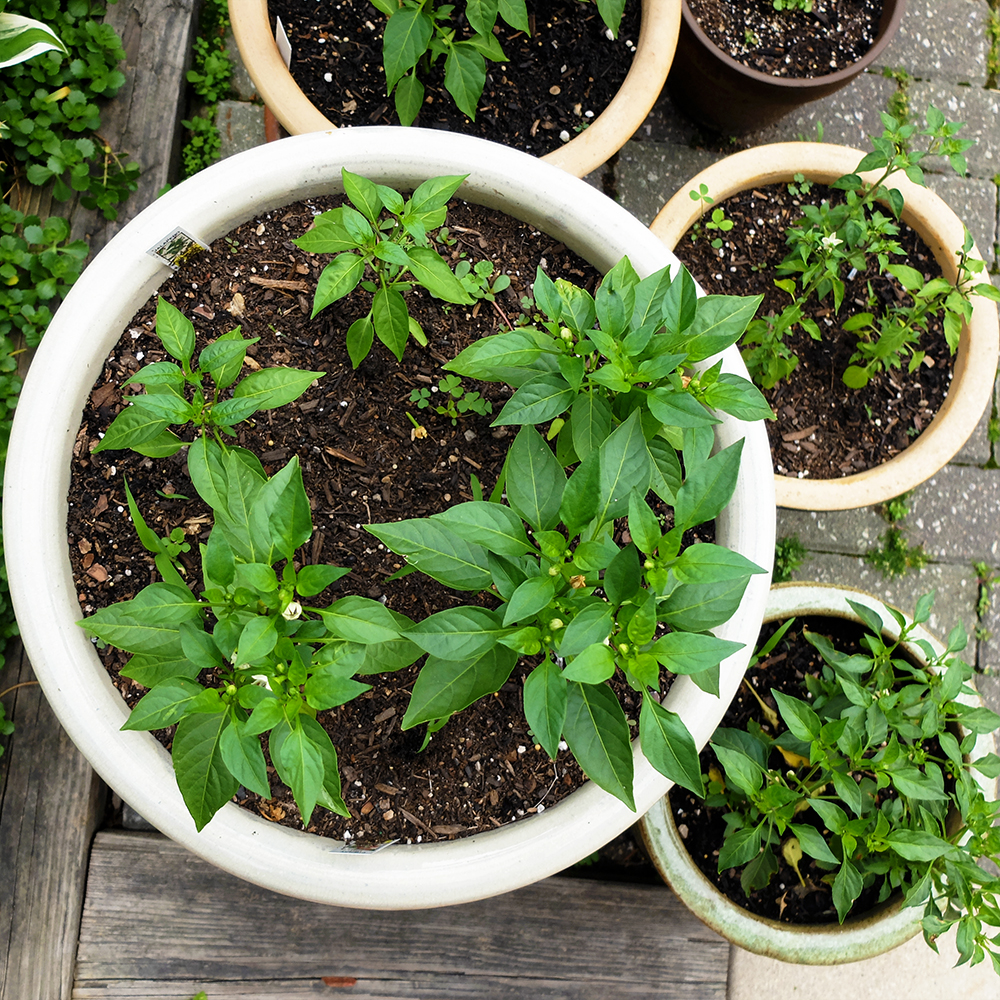 I can't believe it's already been a month since the potted vegetable garden was started. It has already doubled in size, so I wanted to share a quick update on the progress. This year we are growing Tomatillos, Cherry Tomatoes, Jalapeños, Cayenne Peppers, Gujillo Peppers, Chiltepin Peppers, Hot Cherry Peppers, and Basil. 
To me, the most exciting thing growing in the garden is the Tomatillos. When I saw them, I knew we had to have them. The sprouts that we bought started off with a couple f flowers and they have been blooming ever since. They were first planted on April 21st, and by May 13th, a few weeks later they were starting to fill in quite nicely.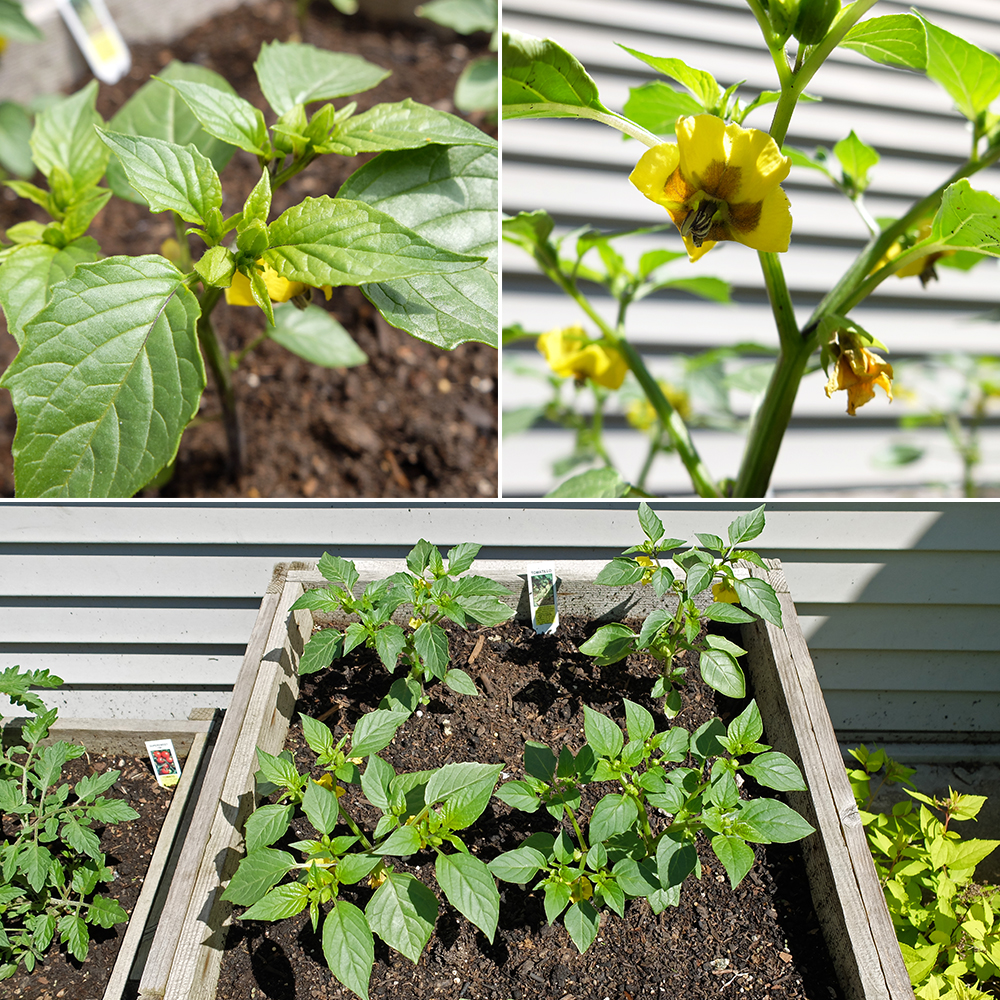 A week later, May 22nd, would be a full month since they were planted in the garden. This is when they really started to thrive. They are about a foot tall and bursting with flowers at all different stages. You can see below, once the petals fall off, the base of the flower begins to curve in and form the husk of the Tomatillo. Hopefully the fruit is beginning to develop already. Tomatillos supposedly bear fruit throughout the season, I'm hoping that will be true for us!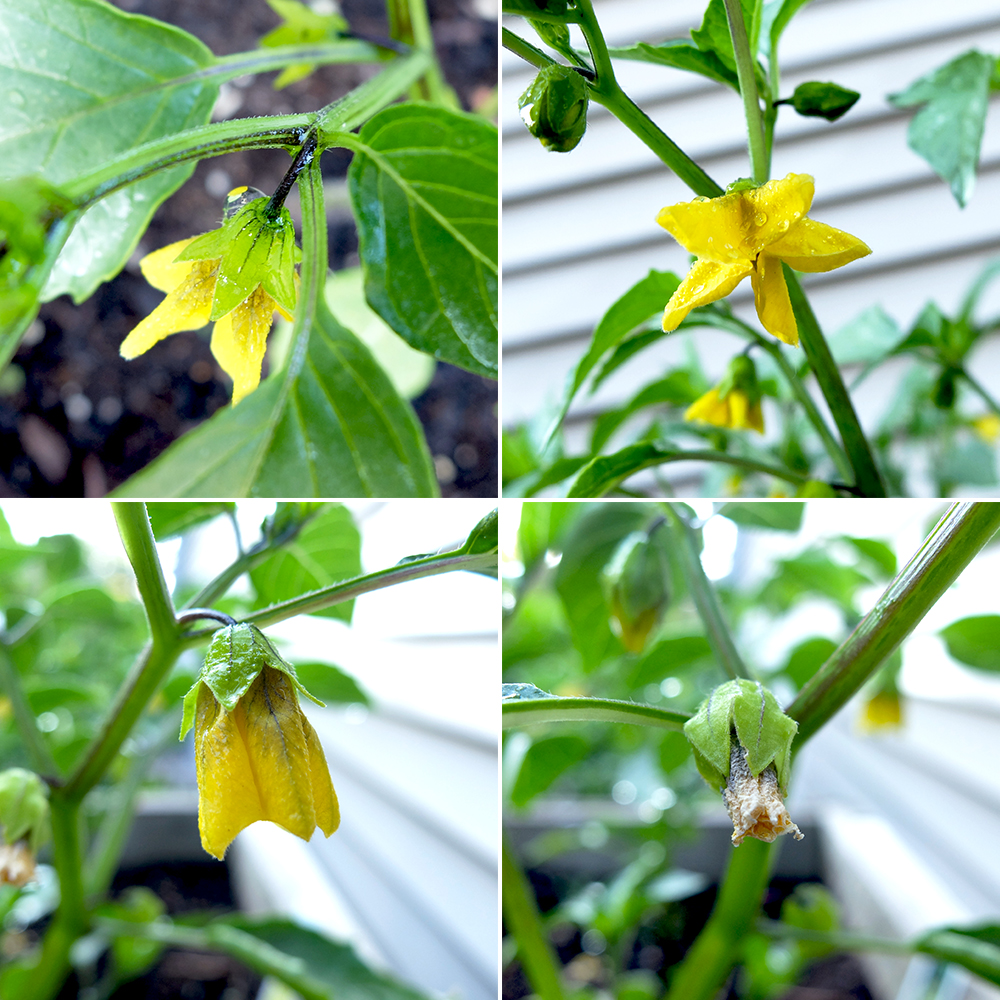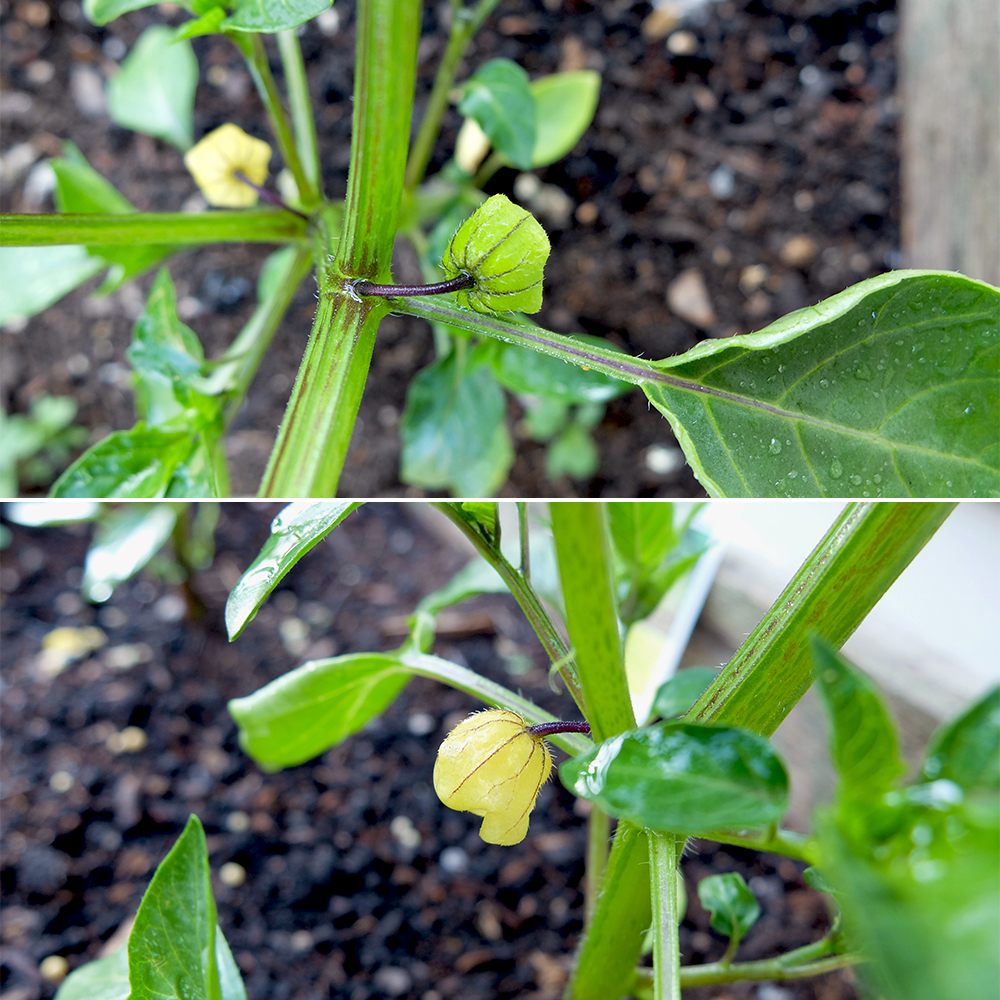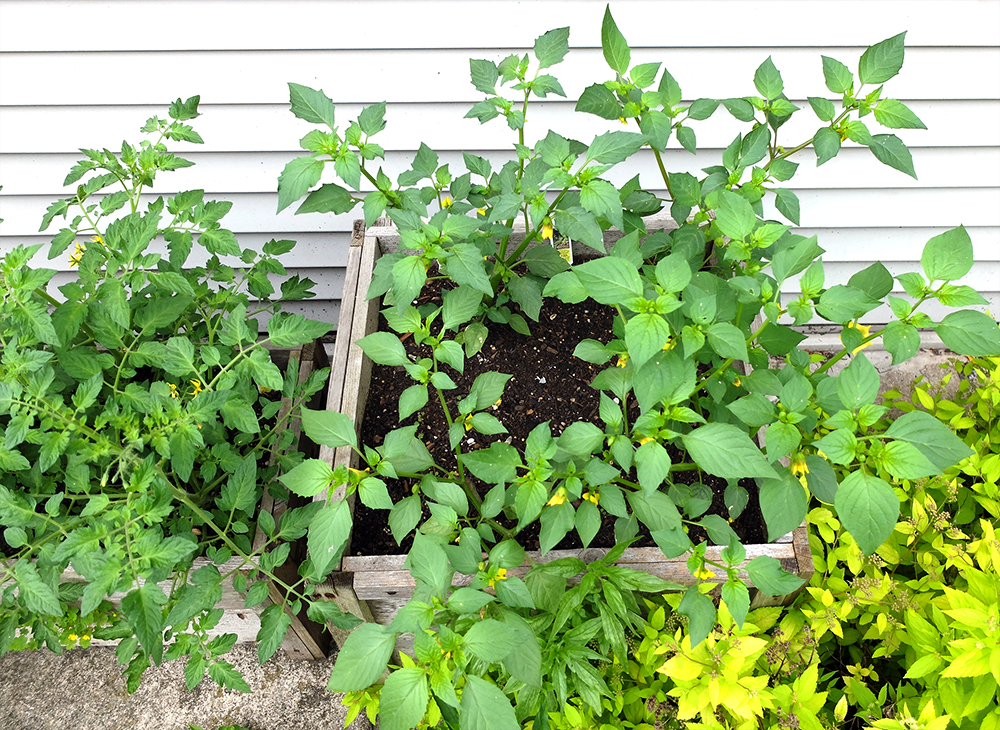 The Cherry Tomatoes are the fastest growing garden plant so far this year. Just below is a picture of them on May 5th, about two weeks after being planted, they stand under 6 inches tall and are just beginning to flower.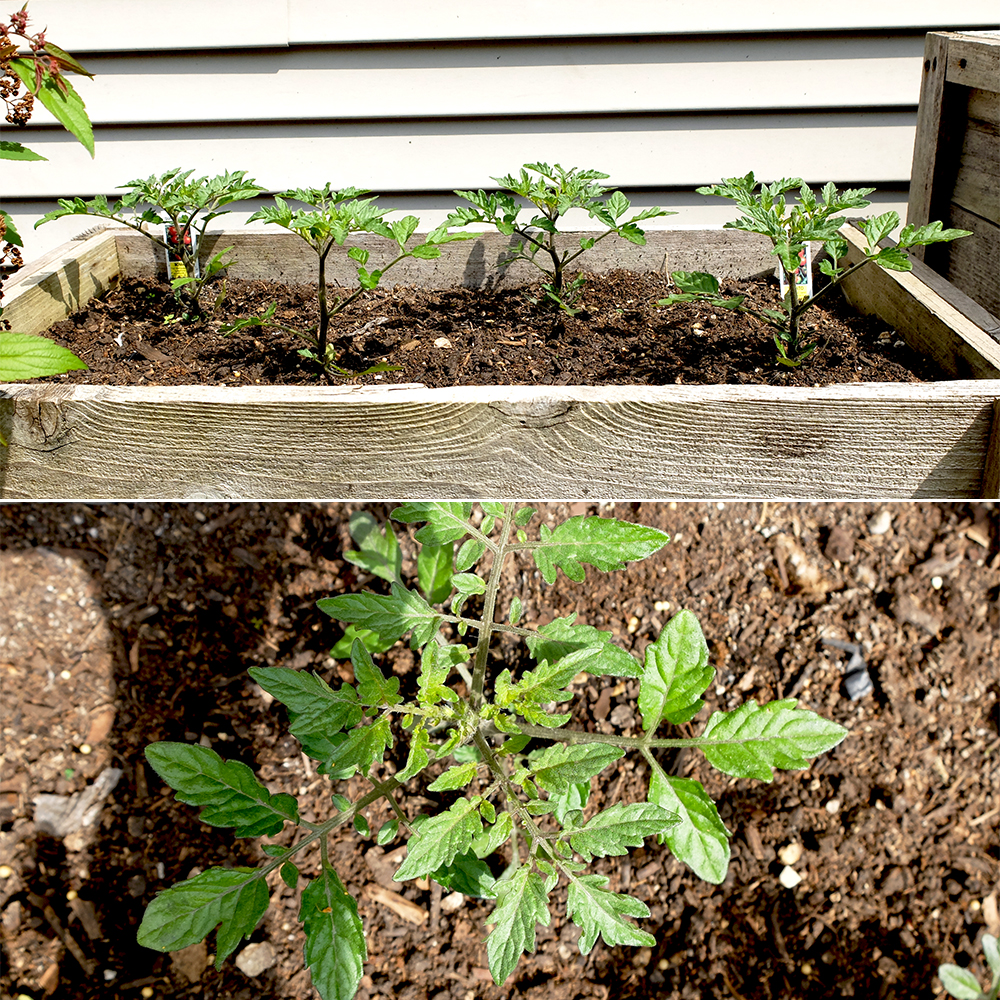 A week later, May 13th, they had almost doubled in size…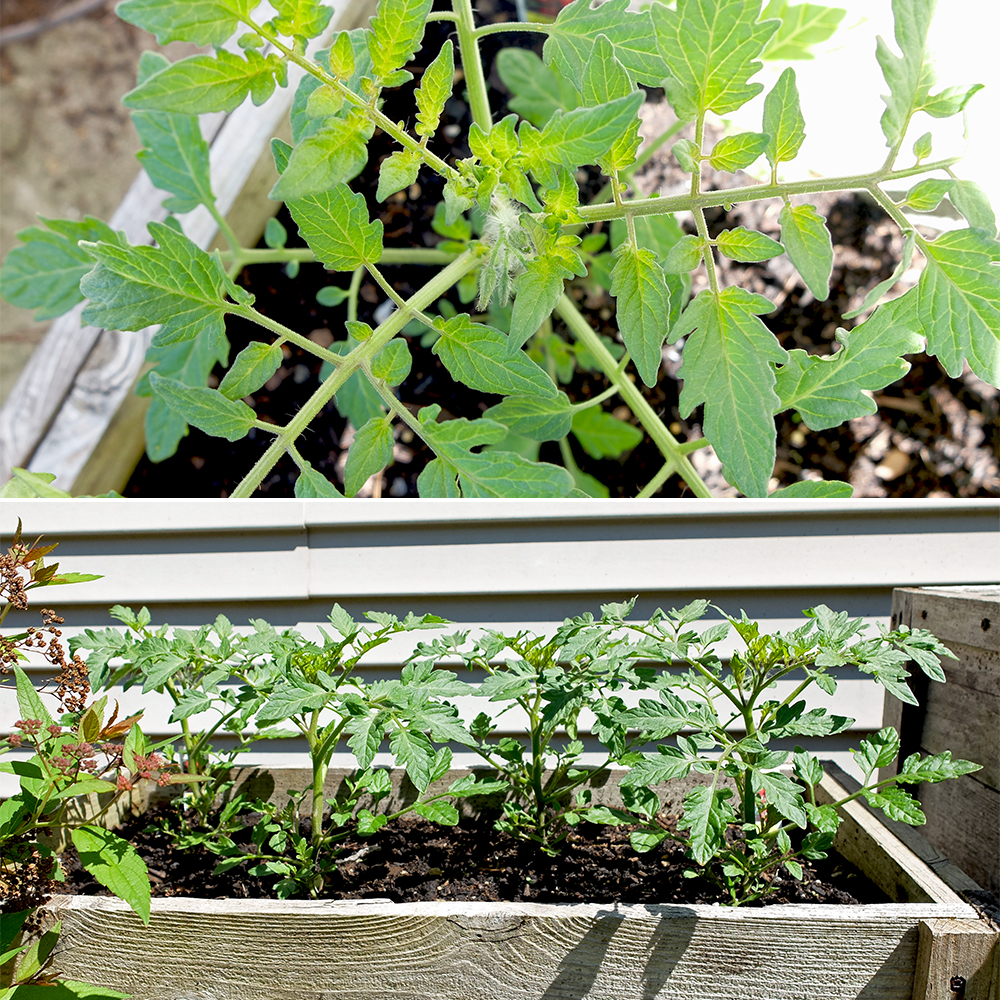 After another week, May 2oth, they grew another 6 inches or so and have bursted with flowers. This variety is called "Sweet 100" and bears fruit for a long time. We had a ton of Cherry Tomatoes from this variety last year.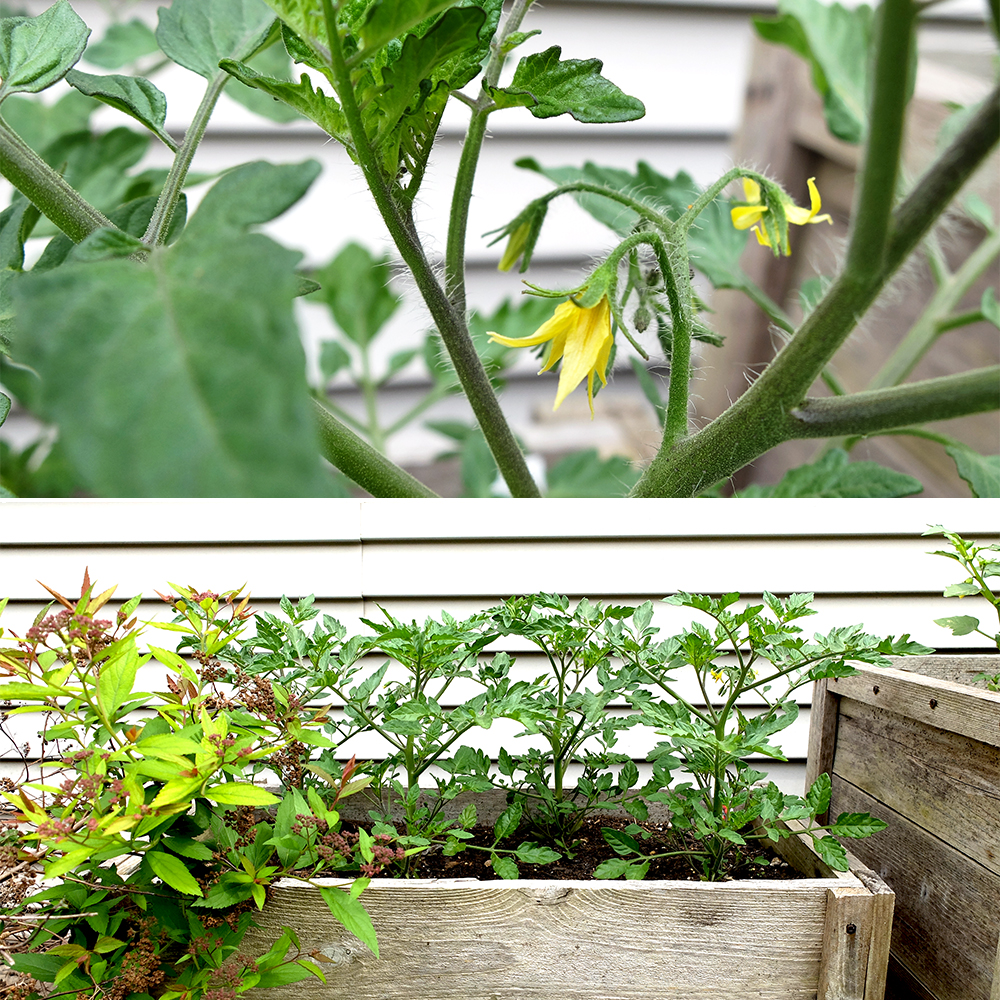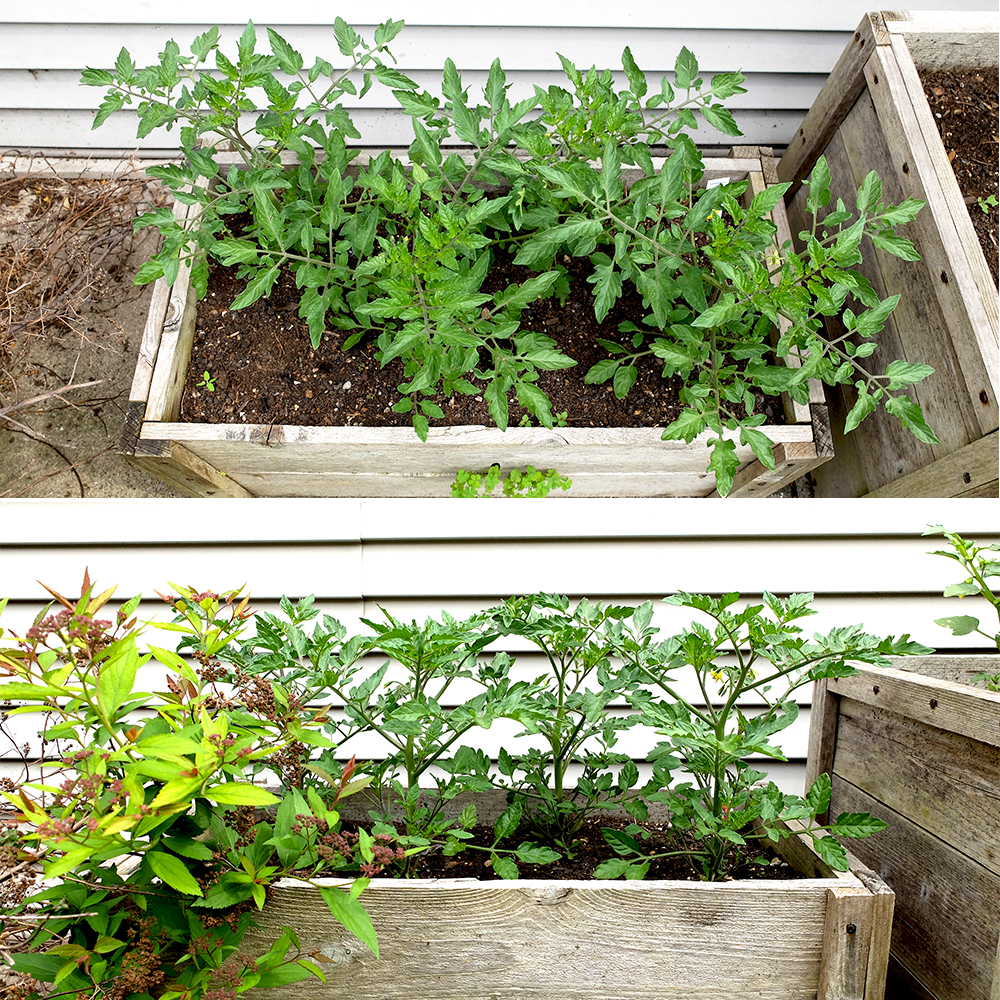 And finally by the 27th, after a month of growth we have Cherry Tomato and Tomatillo plants that are about to need some support to stand up! They are over a 1 1/2 feet tall by now!
At the end of April I started some Basil seeds, they sprouted quickly and just hung out for a couple weeks on the window sill until I finally planted them near the pepper garden. I love how even though these little sprouts are only an inch tall, they totally already look like baby Basil leaves. So cute! I will be starting more herbs very soon.
The peppers are off to a good start, just below are a 3 Hot Cherry Peppers and 2 Jalapeños. Both have flowers but they are growing at different rates. The Hot Cherry Peppers are a couple inches taller with a few more flowers, as seen on the right. No peppers yet.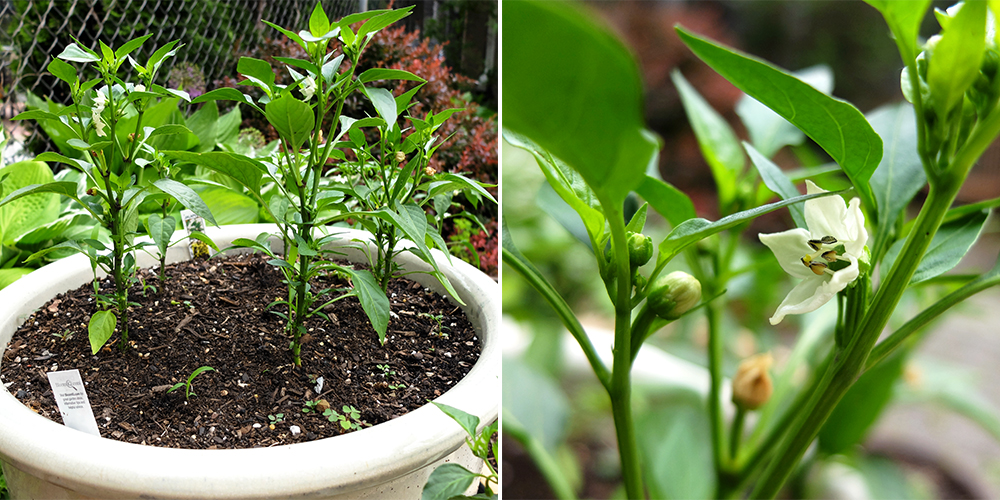 From the top view you can see that the 2 Jalapeños are not quite as full as the 3 Hot Cherry Peppers. On the top right are the Chiltepin Peppers. I've grown a lot of pepper varieties over the years, but never Chiltepins, they look different than the others, tall and spindly. On the bottom right are the Cayenne Peppers looking nice and full.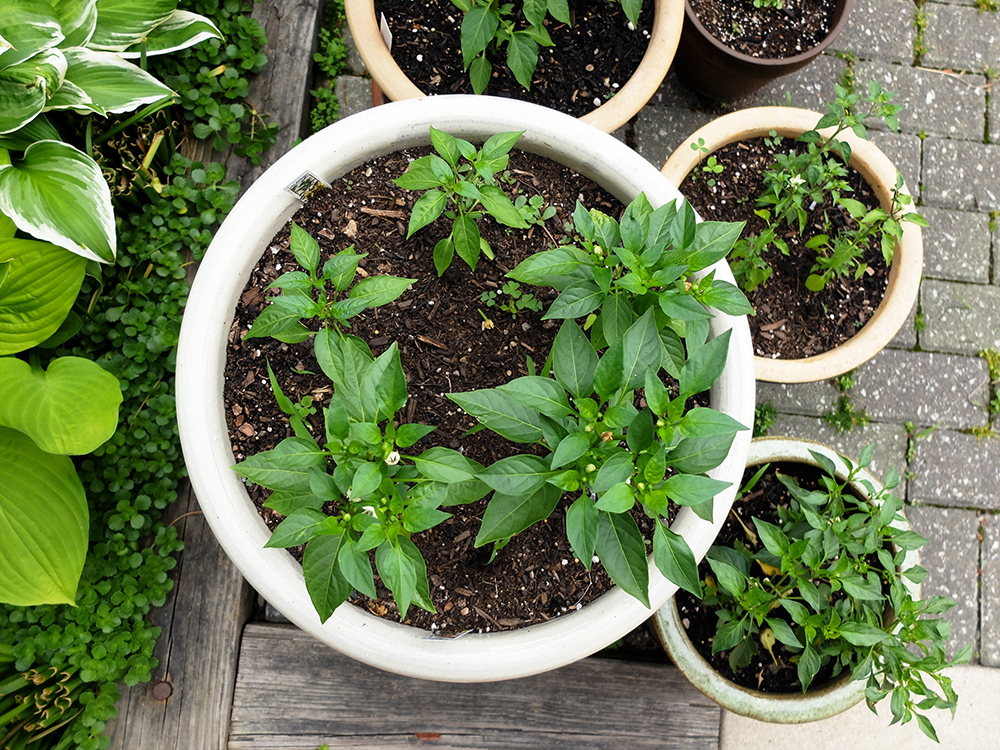 Just below is a side view of the Cayenne Peppers on left with the Chiltepins just behind them. The flower is from the Chiltepins, even the flowers look a little different than the other pepper plants, most of these pepper flowers look somewhat similar, but these seem to have slightly pointier or thinner petals. On the bottom right are the Guajillo Peppers, if you look closely you can see a couple tiny little Guajillo Peppers growing, the first of the season!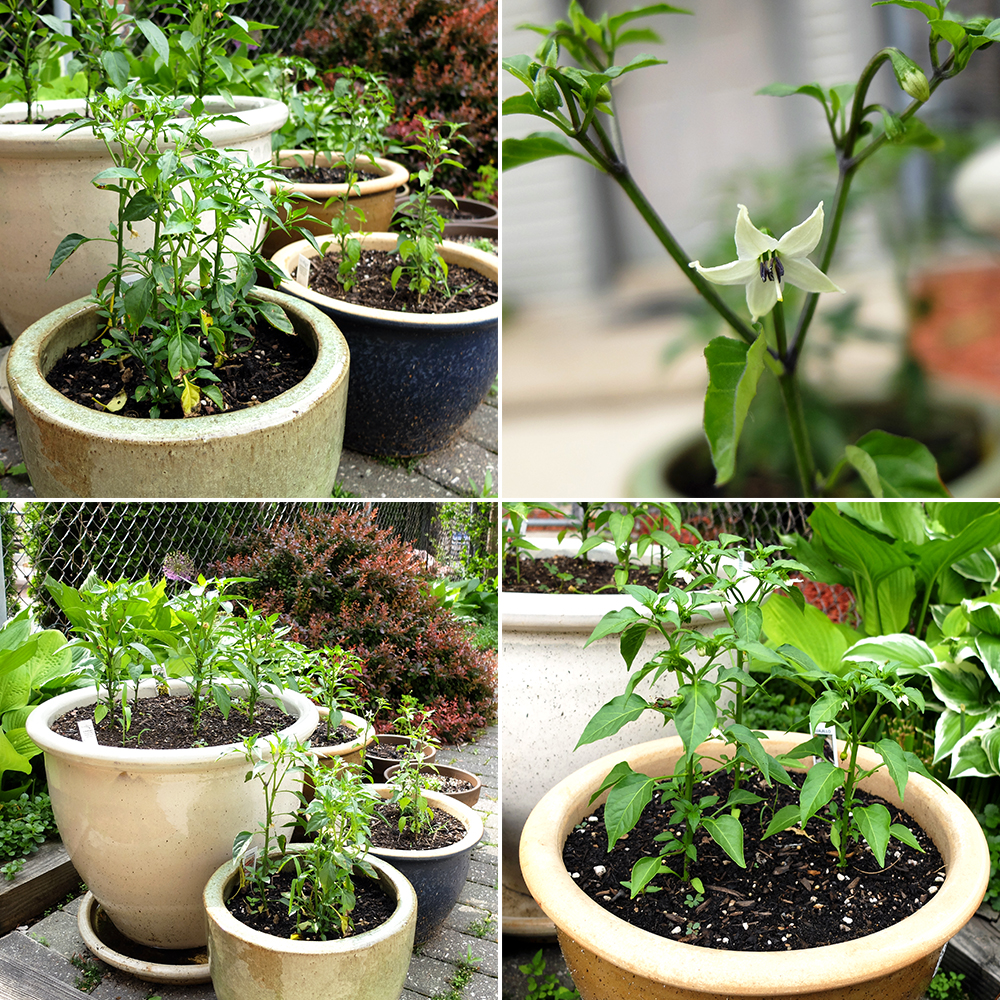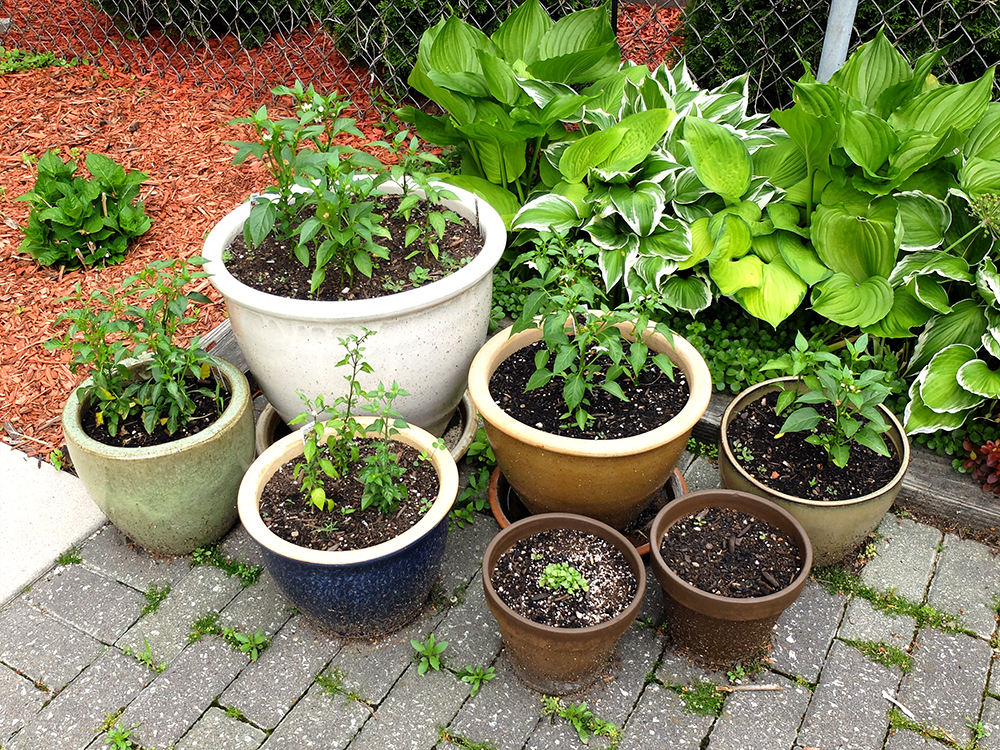 Everything is growing well over here, I imagine by the next update we'll have something to harvest!
Check out more of this years vegetable garden here: